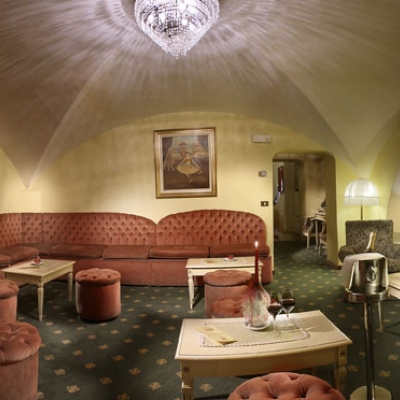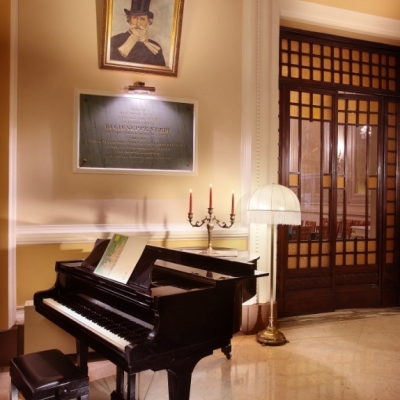 The historic Grand Hotel Plaza & Locanda Maggiore awaits you to make you live the nobility of the old days, in a tranquil atmosphere flavoured with traditional tastes, intoxicated by the charm and elegance that only a few Grand Hotels can still reserve in Italy, allowing you to live unforgettable moments between past and present.
When citing the Grand Hotel Plaza & Locanda Maggiore, you express the idea of hospitality itself. In fact, no other hotel in Montecatini Terme is so tied to the history and thermal fortunes of this town.
The name "Locanda Maggiore" was originally given to a complex of five interconnected buildings, which became precisely the major hotel in town.
The Hotel, which is now called Grand Hotel Plaza & Locanda Maggiore, is structurally different from the 19th century building: in fact, it was Felice Bisleri, at the beginning of this century, who gave it its current structure.
In the annals of the Locanda Maggiore, the most significant memories are related to the presence of GIUSEPPE VERDI as a Hotel guest between 1882 and 1900.
Yet, another great musician had previously stayed here in 1852: GIOACCHINI ROSSINI. .
After the war, in 1960, "LOCANDA MAGGIORE" was closed down; later on, a group of companies decided to give back to the town, to the lovers of this historic hotel and to the entire world, the joy of being able to admire the perfectly preserved halls, decorations and structures dating back to the golden age of the most famous European "Locanda" (Inn).
In the lobby of the Hotel in Montecatini Terme, a marble plaque says: "For many summers, until MCM, this was the grateful residence of Giuseppe Verdi who, tired of glory, would seek peace of mind among the green fields and the splendour of the sky, which he always put before all the clamours of success.".
The Great Maestro from Busseto never neglected his work in Montecatini; rather, he spent many hours working on his scores, and it was precisely at the "Locanda Maggiore" that he finished the fourth act of 'OTELLO', his penultimate opera, which premiered at La Scala, Milan, on February 5, 1887.
Right from its opening, the Hotel has always welcomed prominent figures of the national and international high society among its guests. Nobles, politicians, composers, big names in industry and finance, men of learning, sportsmen and musicians have crowded the rooms and halls of the Grand Hotel Plaza & Locanda Maggiore.
Common areas:
The bar and the restaurant, invite you in elegant and refined lounges, to spend pleasant moments in a 'relaxed and rewarding.
Our Chȇf will be happy to let you taste, from traditional dishes of Tuscan flavors of the best national and international cuisine, customizing the menus for individual needs with diet meals, vegetarian or gluten-free on request.