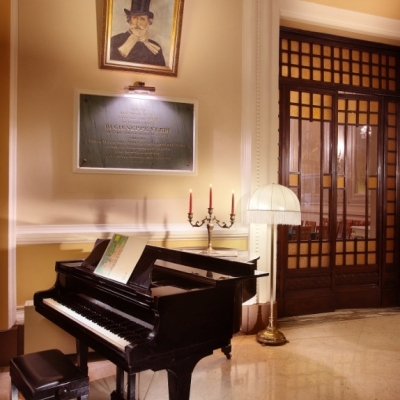 When the Grand Hotel Plaza & Locanda Maggiore is mentioned, the very concept of hospitality is expressed: no other hotel in Montecatini Terme is so tied to the history and thermal fortunes of the city.
The name of "Locanda Maggiore" was initially given to a complex of five buildings connected to each other, which under this sign became the first hotel in the city.
The hotel, which today bears the name of Grand Hotel Plaza & Locanda Maggiore, is structurally different from the building of the Leopoldina period: it was Felice Bisleri, in fact, at the beginning of this century who gave it the appearance we still see today.
In the annals of the Locanda Maggiore, the most significant memories are linked to the presence of great musicians and composers such as GIUSEPPE VERDI and GIOACCHINO ROSSINI (1882 - 1900).
In 1960 the Locanda Maggiore closed its doors, until a group of entrepreneurs decided to give back to the city and to the lovers of historical beauties the joy of being able to see still intact rooms and decorations in the elegant Liberty style.
The Hotel Bar and Restaurant invite you to elegant and refined lounges to spend pleasant moments in a relaxed and satisfying atmosphere.
Our Chȇf will be happy to let you savor, from the dishes of the ancient Tuscan tradition, to the best flavors of national and international cuisine, customizing the menu for individual needs even with dietary dishes, vegetarians or on request for celiacs.